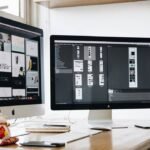 Top Rated WordPress Website Development Company in India, Nexa Infotech can truly be your digital transformation guide in your digitization journey: Marketing, Customer Experience, Project Management, Human Resource, Web Designing & Development, Digital Marketing. Our experienced experts will use their technological skills which will help us in building world class websites and web applications. Nexa infotech specializes in website design and development services. Our web experiences are high performing, feature packed and digitally transformative which is designed to be user-friendly. If you are looking for best website development company in India then give us a call today!
What is Web Development ?
Web development is the building and maintenance of websites; it's the work that happens behind the scenes to make a website look great, work fast and perform well with a seamless user experience. Web developers, or 'devs', do this by using a variety of coding languages
Benefit of web development ?
One of the core advantages of using web development is creating user-friendly design interface for websites. It combines Html, CSS, and JavaScript to build a core website. They are fundamental and foundational pillars of website development process and without them no one can build a perfect site.
What is the use of web development?
What is web development? A web developer's job is to create websites. While their primary role is to ensure the website is visually appealing and easy to navigate, many web developers are also responsible for the website's performance and capacity
Is web development useful in future?
The U.S. Bureau of Labor Statistics expects employment of Web Developers to grow eight percent by 2029, much faster than the average for job roles. There is also no sign demand will wane.